---
These items are sterile when shipped. Please note that we cannot accept return of these items.
---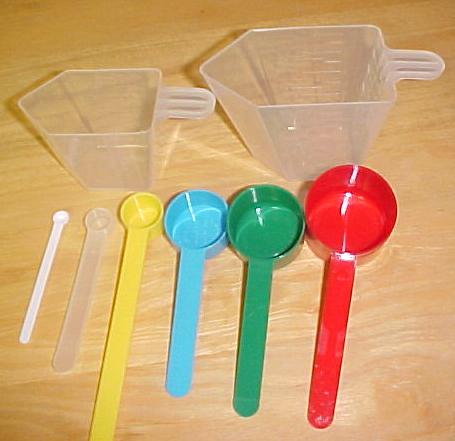 High Quality Polypropylene
Measures Meet FDA Standards
Prompt Delivery
No Minimum Dollar Amount for Orders
Plastic measures packed with your product give your consumer a convenient means for an exacting measure and virtually guarantee that your product will produce promised results.

The photo to the left shows a sampling of our scoops, we offer many more sizes than shown here, please scroll down the page to see all the sizes we have to offer.
All sizes listed on this page are in stock for immediate delivery.
---
A note from one of our customers:

"I got my order today, and just wanted to say thanks. The shipping was quick, and I got products that I couldn't find anywhere else. I'm actually using your cosmetics supplies for my aquariums. The 1/32 tsp. measuring spoons are perfect for brine shrimp eggs and bacterial additives, and I'm using the 1/4 oz dropper bottles for dechlorinator-it comes in a huge bottle with no dropper, and I have several small aquariums.
I've been looking for instruments to scale down my additives (I've just been hoping that a small glop will do it), and these items worked perfectly. It occurs to me that maybe other aquarists or anyone looking for small-scale equipment might be interested in your site, so I thought I'd share how I use them, in case you're looking for ways to expand your customer base."
Kristin G.
Long Handle Measuring Scoops